Pennine Pens, independent web developers and publishers based in Hebden Bridge. We design, develop and maintain web pages/sites and occasionally still publish the traditional book.
New eBooks

The Bad Step by Andrew Bibby. For Nick Potterton, high-flying London journalist who has moved to the Cumbrian countryside, Davie Peters' death should be just another story to cover.  But the longer he investigates, the more disturbing questions he has to answer.  Was the death as accidental as it seemed?  Publication date: 1 May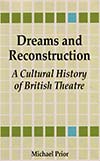 Dreams and Reconstruction: A Cultural History of British Theatre by Michael Prior. A cultural history of British theatre from 1945 to 2005 with a historical preamble. 

It includes all major developments in British theatre including major productions and personalities as well as theatrical institutions. Available now for iPad. And on Kindle soon.
Recently reprinted:
Presenting the Past - Anne Lister of Halifax by Jill Liddington
Gone Walkabout by Anna Carlisle