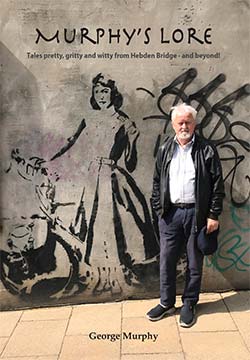 Murphy's Lore is the weekly record of a dramatic year in the life of the UK. 52 episodes, viewed from Hebden Bridge in the Upper Calder Valley, a distinctive, beautiful and climate challenged part of the Pennine hills.
Expect chapters with titles like 'Café Culture' 'Banks do a bunk', 'This sporting wife', 'Father Dougal', ' Valentine Special', 'What has the EU ever done for us?' and 'Horace Bachelor'.
Alongside his responses to national events, George relates incidents from his own life, many of which have occurred in and around Hebden Bridge. George's writings are filled with offbeat, wry observations on national politics, his family life and, above all, the quirky community of Hebden Bridge and its neighbouring towns.
George is a performance storyteller and writer of light verse and songs. This is his third book for adults, he is the author of six books of folk tales for African children and in 2018 published Hippy Valley.
Murphy's Lore was first published as a regular column on the Hebden Bridge website, the 'HebWeb' .
"I genuinely love these columns, and, in these uncertain times, look forward to them even more. Thank you so very much, George Murphy." Professor Mary Krell
"Well made me laugh, George - as you usually do." Paul Walsh